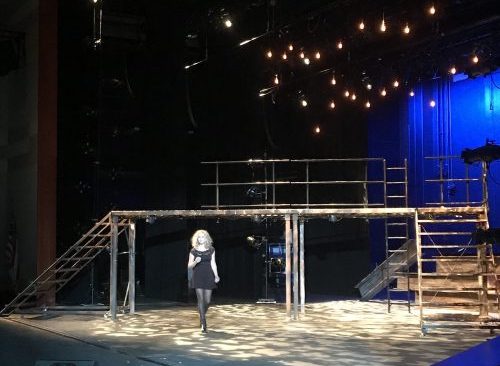 The magic of live theatre poured off the Venice Performing Arts Center stage this weekend as Venice High School students performed their first ever musical.  Eight students, from freshmen through seniors, graced the stage with a passion and excitement that was palpable from the back of the audience.
Songs For A New World, written by Jason Robert Brown, is one of the most vocally challenging scripts there are, and was an ambitious choice- that paid off.  Teacher and director, David Monagas, worked with the students to portray the stories of people from all different walks of life, times, and places; as they face challenging choices that will change the course of their lives.  This song cycle meets musical was staged so that the characters all felt both alone and interconnected at the same time.  The multilevel set allowed performers to interact, while rarelybe in the same space- often circling past each other creating barely missed connections.
Jillian Steffens, junior, who was last heard singing solo on the VPAC stage during intermission of The Broadway Boys concert last fall, has an impeccable, strong, opera style head-voice.  Throughout the performance you could feel and hear Jillian grow as she found her musical theatre voice and the audience sat in jaw dropped awe as she belted out the shows theme with a strength that would knock you into your seat.  Beckett Pfanmiller, sophomore, has a naturally rich voice and strong stage presence.  Near the end of the show, as Pfanmiller and Steffens sang in duet,chills went through the audience.  Claire Froelich, senior, thrived on portraying characters all very different from each other- changing her voice and attitude with each new song.  The rest of the cast, made up of Kerry Carr, V. Clark, Mazie Macklin, Lena Sellitto, and Seth Stavarz all had extraordinary solo moments, but their ability to work as a team and feed off of one another, moving from main character to supporting role in one scene to the next, shined above all else.
The scenery- made out of rusty looking metal platforms and stairs, with exposed lighting and stage wall, made the audience very aware that they were in a theatre, in a place of change- but left the audience wondering where exactly they were.  The lighting often used extreme angels and shadow, giving the show a very dramatic and timeless look that transported the audience onto the stage with the performers.
Songs For A New World used the magic of live theatre to bring the audience along with the cast from moment to moment, transporting and transforming each audience member as they watched students learn, grow, and change along with their characters.  An understanding seemed to linger through out the whole room: you're always on the brink of your own new world.
https://veniceperformingartscenter.com/wp-content/uploads/2018/05/Mazie-Macklin-junior-sings-Christmas-Lullaby.jpg
366
500
Ben Gallaher
https://veniceperformingartscenter.com/wp-content/uploads/2018/05/VIPA-logo-header.png
Ben Gallaher
2018-04-30 15:25:28
2018-10-04 15:48:51
The Magic of One Moment