The Venice Institute for Performing Arts (VIPA) has a mission to sustains the local arts community through innovative educational programs and inspires the local community with first-class entertainment.  VIPA is launching its VIP Arts Academy during the 2018-2019 season, bringing all of its educational programs under one roof.  Students who graduate from the VIP Arts Academy enter the workforce with career-ready skills that can be applied to both the performing arts or any other career they choose.   
Tech Talks

Tech Talks launched in the fall of 2017 and reached 200 Elementary School students in its first year. Aimed at showing students all that the performing arts have to offer behind the scenes, this free, 2 session program walks students through what it means to work backstage, and all of the opportunities available – no matter their interests.  The first session takes place in the classroom, teaching students the basics of what lighting, scenery, and costumes are.  During the second session, students come to the VPAC and are given the opportunity to use the equipment and design their own scenery.
Drama Detectives- Premiering September 2019!
A show is like a giant mystery waiting to be solved! Would someone living in Paris in 1800 wear something different than someone in Tokyo? If it was 50 years later, would their outfits change?  What did London really look during WWII?  What did it feel like to travel to Egypt during the Roman Empire?
Plays are filled with clues about life in different places and times- and the Drama Detectives are here to find them all! Students learn what its like to be royalty in a faraway land or the first European to find themselves in Australia and so much more. Students will study the clothes their characters wore, the places they lived, the food the ate- how different it looked without electrical lighting- before rehearsing and performing their play.
Each grade will focus on a different culture and area of the globe.
6th-grade -American and European cultures
7th-grade -Asian and Pacific cultures
8th-grade -African and Middle-Eastern cultures.
Classes are Tuesdays from 5:30-6:30, September- June.  Performances are in July.  Need-based scholarships are available for this program.
Workshops and Masterclasses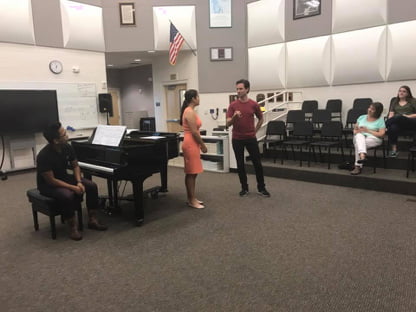 Throughout each school year, up to 30 free workshops are offered to students. In September of 2017, Sarasota County High School students were given the opportunity to participate in a master class with The Broadway Boys. Students prepared a monologue or a song to sing for these Broadway professionals and all students were given feedback as well as tips and tricks on auditioning for both college and professional auditions. Three students, two from Venice High School and one from Booker High School, were chosen to perform during intermission of the Broadway Boys concert that same evening. Jazz Band students were given the opportunity to work with Dick Hyman, a local legendary jazz musician.  Performers from The Asolo Repertory Theatre, Florida Studio Theatre, The Sarasota Opera, and the Venice Symphony came together last spring to talk with students about the life of a performing artist and what it means to work on the road and as an independent contractor.
2018-2019 workshops will include a master class with the world-renowned Vienna Boys Choir, TV stars The Filharmonic, makeup classes, resume building workshops, audition workshops, theatrical rigging, stage combat, theatrical design, and how to find jobs and auditions.
Apprenticeship Program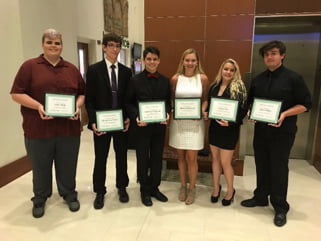 The Apprenticeship Program is a unique experience for Venice High School juniors and seniors who are paid to work on the professional performances that come through the VPAC. Students are given the opportunity to work hands-on with industry professionals in all areas of the performing arts from lighting and sound, to house management, and patron relations' while also learning valuable life skills about responsibility, time management, collaboration, and teamwork.  These skills are not only applicable in the performing arts but in any field, the students choose to follow upon graduation.
Apprentices are required to submit an application and interview for a position in the apprenticeship program.  Once chosen, apprentices must commit to 16 hours of initial training, working on at least one professional performance a month, and attending a monthly apprentice class and continuing training workshop.
Students who have graduated from the apprenticeship program have gone on to work for the stagehands union, ITASE, and work as managers for local bands.   Students have studied both performing arts and non-performing arts-related degrees at colleges and universities.
If you would like to support our educational programs please visit our donation page.