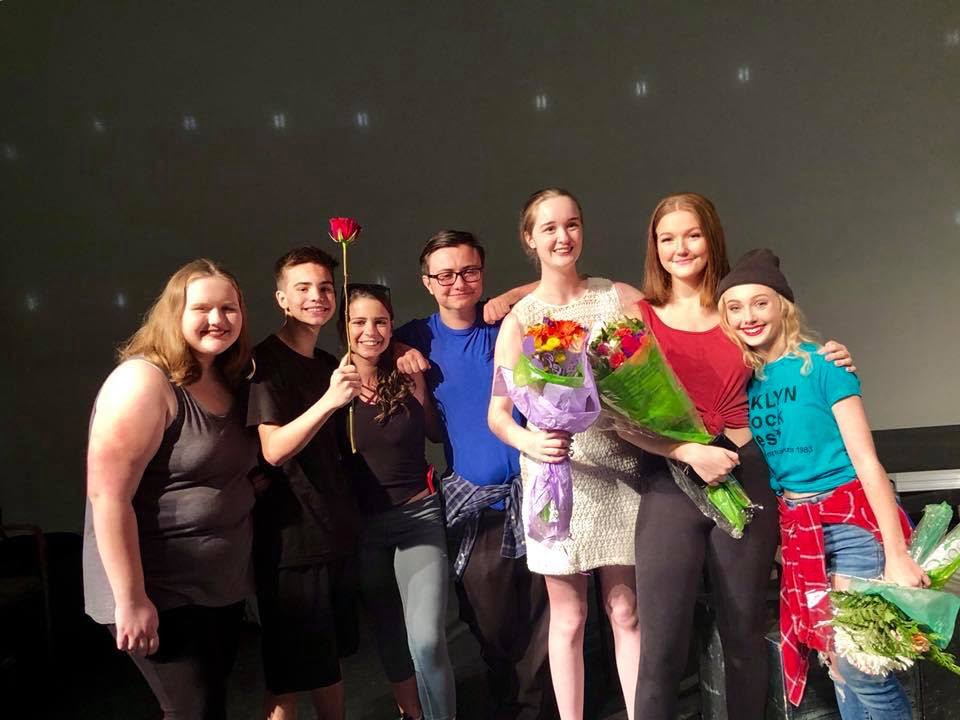 VHS performance "Lillian Likes It" — It's a hit!
The Venice Institute for Performing Arts sends our congratulations to VHS Student Theatre Summers for a sold-out opening night performance of "Lillian Likes It" last Friday! The past weekend at the VPAC saw three more successful performances of the play, written by actor and playwright Joshua Mikel.
So what is IT all about?
"Lillian Likes It" is the story of a girl who joins a new dating social media platform called Lazarus – which takes all the info about you from the internet and creates a virtual YOU. Lillian spends more and more time on social media, distancing herself from those around her. As she delves further and further into Lazarus, she begins alienating the real people in her life. The play also pokes fun at the different social media stereotypes that people turn themselves into to be seen a certain way. It prompts us to engage with those around us, to love them, to listen to them, and to live in the present while we have the chance.
The play has a deep, meaningful, edgy approach to a current issue in our society – the dependence on and overuse of social media. "Lillian Likes It" shows viewers an example of how greatly this issue has the potential to affect our lives. It reminds us to stay presently and fully engaged with the world and those around us, giving full attention to the important relationships in our lives – something we all need to be reminded of from time to time.
Director, Cassandra Trascik, who worked closely with Mikel planning and perfecting every detail of the play, raves about the cast and crew who worked passionately and diligently on "Lillian Likes It." This play has given way to the first annual VHS Student Theatre Summers program that Ms. Trascik has plans to strengthen and continue in years to come.
The cast of "Lillian Likes It" is comprised of seven Venice High School students, ranging in grade level and theatre experience, from incoming sophomores to incoming seniors. Another VHS senior, Journey Underwood, took on the position of Assistant Director for the show and worked closely with Ms. Trascik. These dedicated students are the biggest advocates for the play and have fully immersed themselves both physically and mentally into making it the best it can be. They hope that you too will enjoy it as much as they have enjoyed presenting it to you, and that you will take something meaningful away from it.
Community thoughts…
"The show was both hilarious and thought-provoking," said one audience member who came to the show with her daughter.

"It delves into the importance of our real-life relationships. I felt as if the show mirrored my personal experiences in the social media realm. Everyone was able to relate and take away something, from the students who were performing to all of the community members watching," said a fellow Venice High student who came to the show on Friday.
Beat the summer heat and come see one of the next shows at the VPAC! Tickets are only $5.
Thurs., June 28th – 7:00 PM
Fri., June 29th – 7:00 PM
Sat., June 30th – 2:00 PM, 7:00 PM
Sun., July 1st – 2:00 PM
*Because this play is performed black-box style on the VPAC stage, seating is limited and it is recommended to purchase tickets in advance. Tickets can also be purchased at the door, depending on availability. We hope to see you at one of the next shows! You can purchase your tickets here.
https://veniceperformingartscenter.com/wp-content/uploads/2018/07/image1-3.jpeg
720
960
Ben Gallaher
https://veniceperformingartscenter.com/wp-content/uploads/2018/05/VIPA-logo-header.png
Ben Gallaher
2018-06-26 19:47:51
2018-10-04 15:44:28
VHS performance "Lillian Likes It" — It's a hit!