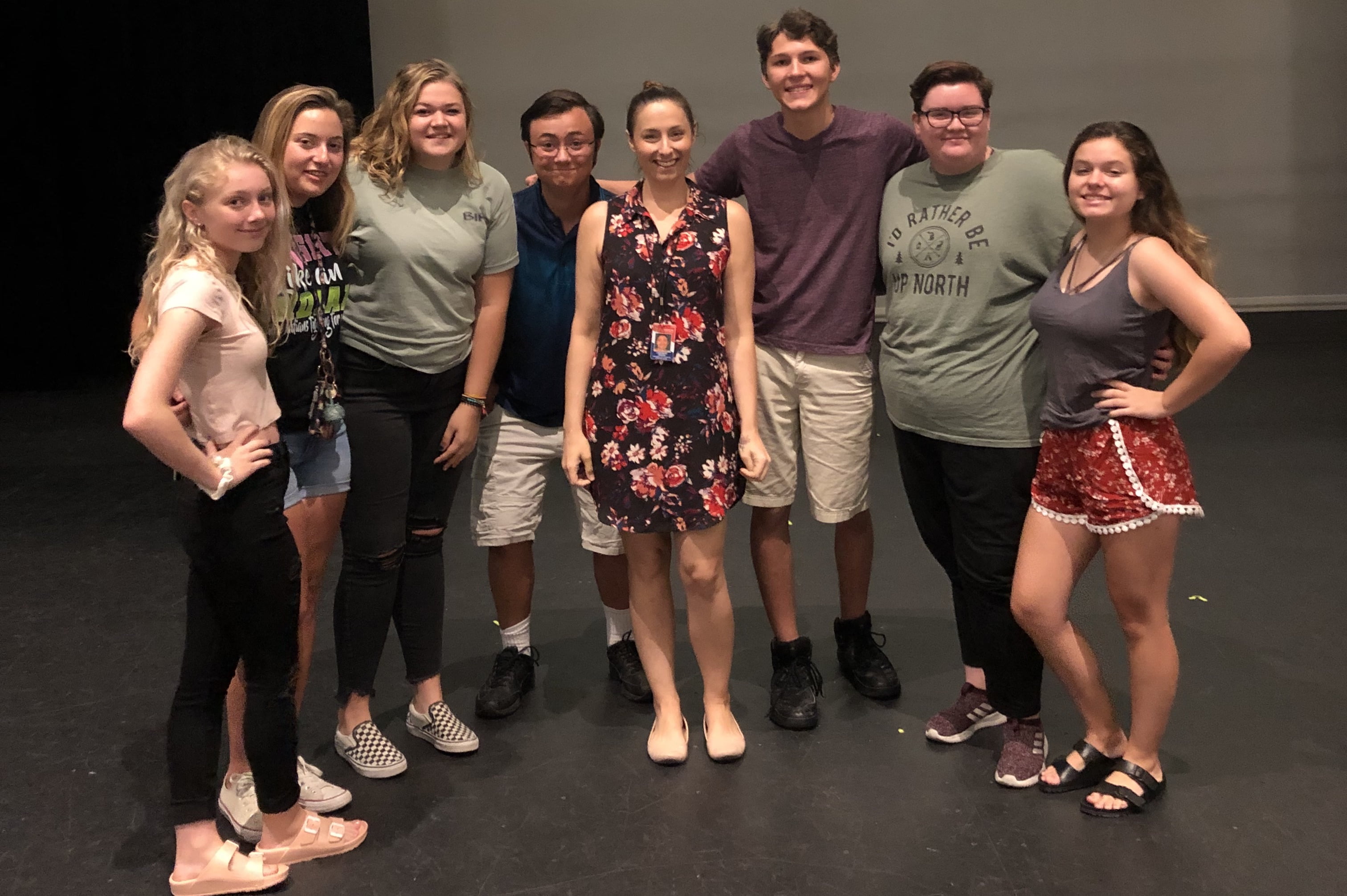 New Teacher Brings Positive Changes to VHS Theatre Program
Casey Trascik spent most of her time as a VHS student taking drama classes.  Now she's back, teaching those classes to the next generation and bringing new programs to grow the offerings in dramatic arts for students.
This summer Trascik and eight VHS students have dedicated themselves to performing a Children's Show titled "Good Good Trouble on Bad Bad Island" as part of the fledgling program called Student Theatre Summers. The show will be performed for the campers of the Student Leadership Academy, a program benefiting title 1 schools in Sarasota County, and open to all Sarasota County Camps.  There will also be daytime and evening performances open to the public.  Trascik created Student Theatre Summers to provide opportunities for current and incoming VHS Students to participate in theatre outside of the school year.  The students work on all areas of the production from sets to lights to acting.  Last year the students even got to work with the Playwright himself, Joshua Mikel.  Another goal of the program is to help build the VHS Theatre Program, taking advantage of the opportunities available in the Venice Performing Arts Center.
Trascik has held many positions in the VPAC, from Center Manager to Theatre Manager and Technician, and is now moving into the position of Theatre and Drama Teacher- but in every position, she has been dedicated to putting the students first. "My hope is to create a program where students can explore and develop their interest in theatre in a collaborative, supportive, and positive environment," Trascik says.  "Part of being in the theatre is learning how to listen to yourself and to become able to express yourself.  That is what I want to foster in our children here in Venice."
A graduate of Venice High School, Trascik has extensive experience in professional theatre and teaching at various theatres before coming back to VHS. Her ability to teach a variety of theatre classes makes her a valuable addition.  She has experience teaching: acting, directing, acting for the camera, stage makeup, Improv, and lighting and sound design among other things. Students have already been working with Ms. Trascik outside of the classroom on scenes and monologues for competition – where they received the top ranking of Superior- as well as interning with her in VPAC during the day studying lighting, sound, and set design. "Our students are so eager to learn and luckily, they live here in Venice where our Community members have the experience to share and a desire to be involved.  I invite all those community members who want to be a part of helping VHS Drama succeed to come and work with us!  Wherever your interest lies, from costumes to set painting, to makeup, to box office, to voice work, I want you to come and share your time and talents with our Students.  They need you and they want to learn from you. Even if you've never participated in theatre before, this is your opportunity.  We need the support of the parents and community to make this program succeed."
VHS Student Theatre Summers production of the Children's Show "Good Good Trouble on Bad Bad Island" run July 16th, 17th, and 18th at 6pm and July 18th at 2:30pm.  Tickets are available online at www.veniceperformingartscenter.com or by calling the Box Office at941.218.3779.  Tickets are free with a $5 suggested donation.  This show is appropriate for children, adults, grandparents, and friends!
Good Good Trouble on Bad Bad Island by: Joshua Mikel
A "Good Good" Doll, Rosa, has been delivered to Bad Bad Island by mistake.  Join her on her adventure to try and make it home while facing horribly horrible task put fourth by The Idol and making friends with a band of crazy Bad Bads named Grimey, Bites, Chomps, and Thumpy.  She meets lots of fun characters on the way to finding friends and a family.  A play about compassion, friendship, and belonging.  The cast includes VHS Students: Sarah Yurus, Nathaniel Fenton, Megan Simpson, Joseph Vescera, Fiona Coffey, Lexi Bogert, Rachel Nickols, and Elise Anderson.
https://veniceperformingartscenter.com/wp-content/uploads/2019/06/Good-Good-Trouble-Cast.jpg
2012
3024
Ben Gallaher
https://veniceperformingartscenter.com/wp-content/uploads/2018/05/VIPA-logo-header.png
Ben Gallaher
2019-06-28 15:17:07
2019-06-28 15:19:47
New Teacher Brings Positive Changes to VHS Theatre Program