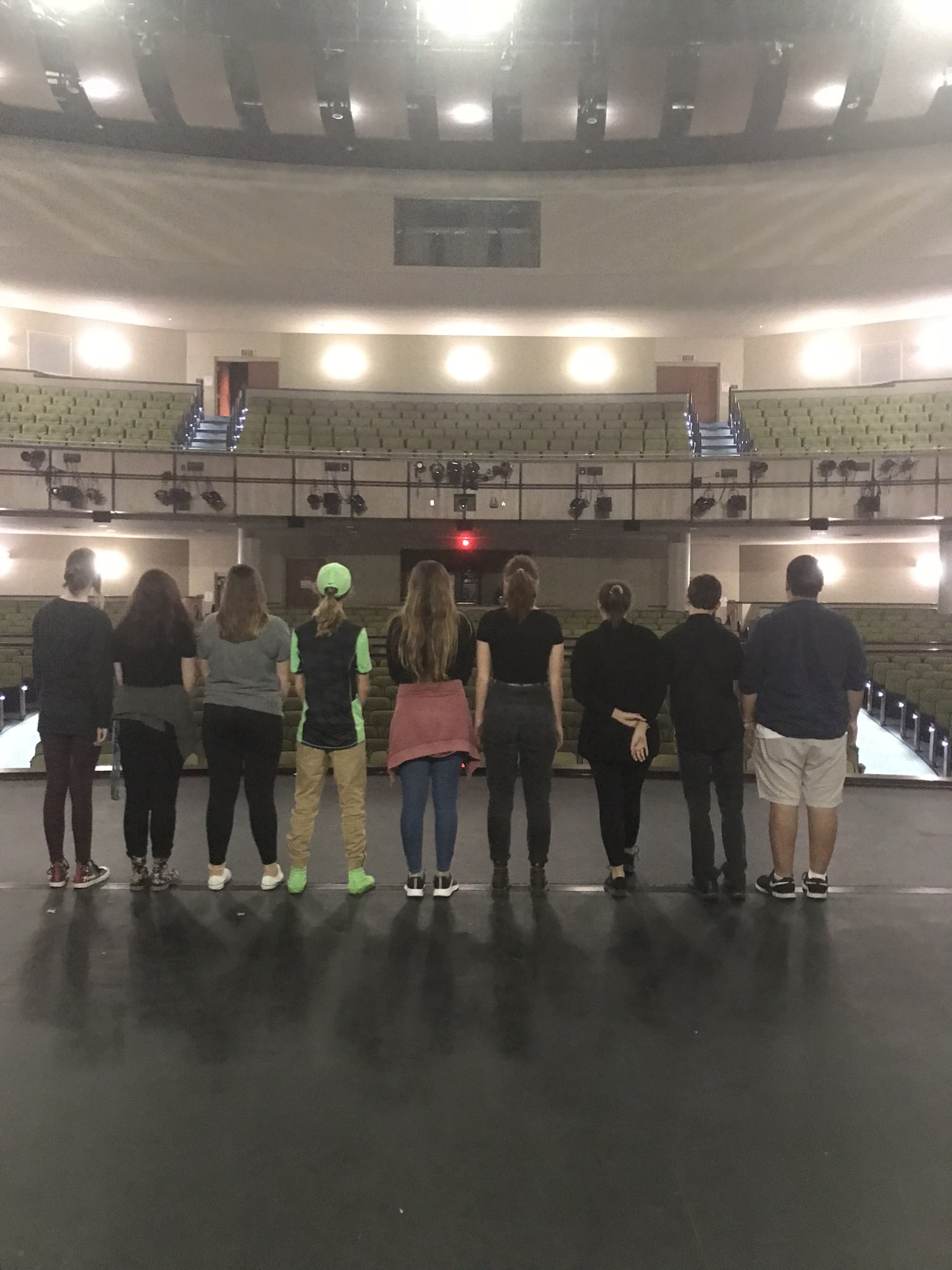 Announcing Our 2019 Apprentice Class!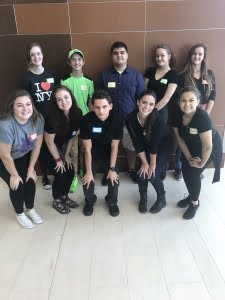 (From left to right) Back Row: Amanda Galatro, Eli Jason, Noah Churyk, Teagan Ericson, Megan Roos
Front Row: Fiona Coffey, Jenna Fisher, Jonathan Fenton, Julia Lee, Jillian Steffens
The Venice Institute for Performing Arts is proud to present its 2019 Apprentice Class! Ten students, comprised of Venice High School juniors and seniors, were selected from a pool of candidates and underwent an interview process before being named. They officially began their training on Thursday, September 27th and will learn how to work in all different mediums, including lighting, sound, spotlight, stage crew, box office, house management, and graphic design.
The Institute's apprentice program is a unique experience for students who are paid to work on the world-class performances that come through the VPAC each year. Working one-on-one with industry professionals in all areas of the performing arts, the mission of this curriculum is to endow each participating student with career-ready skills upon graduation and help enhance the community's vocational training options. The students also learn valuable life skills about responsibility, time management, collaboration, and teamwork that are not only applicable in the performing arts, but in whatever field the students choose to follow upon graduation.
Apprentices will spend a total of 24 hours throughout the year in class, with the rest of the time in the program spent working on professional shows. Some of the class topics for the students include Defining Creativity and Arts Management. Apprentices will also tour the Asolo Repertory Theatre's backstage and costume shop, and will be putting together a professional resumé and portfolio to present at the end of the school year. Most importantly, the students will be learning how to advocate for themselves and the arts, as well as articulate what the different segments of the performing arts are and why they matter.
A participant of last year's apprentice program and 2018 VHS graduate Thomas speaks of his experience: "I've gained a great knowledge of theatre that I wouldn't have if I hadn't worked here and an interest in theatre that I didn't know I had. I've also met a lot of people who can help me in my life. I've built relationships with other people who can assist me throughout my career."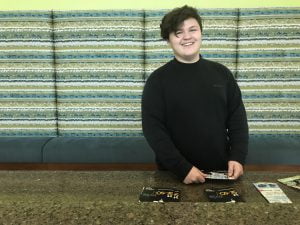 Jonathan Fenton, currently a senior at Venice High School, is participating in VIPA's apprentice program for the first time. He is also pursuing an internship in graphic design through the Institute, under the leadership of Brand Manager Kelsey Simpson.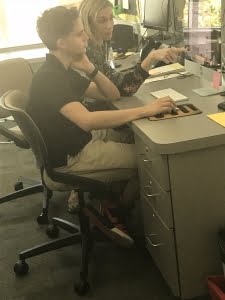 Jonathan and Kelsey, hard at work on a design
When asked about what he looked forward to with the program, Jonathan said, "I hope to break out of my comfort zone, engage myself in multiple unknown fields and learn all I can about light and sound systems. I also hope to become a better person and a leader."
Amanda Galatro and Teagan Ericson are both returning to the apprentice program, having participated as members of the 2018 class. Teagan is also the president of the VHS Drama Club, and the duo shared the stage at the VPAC this summer, performing in the first ever summertime production of "Lillian Likes It." Both look forward to furthering their passion for the performing arts, and plan to continue with their studies in college. Both Amanda and Teagan are doing an additional internship with VPAC Theatre Manager Casey Trascik.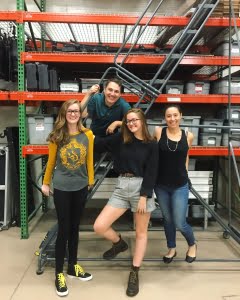 Amanda (left) and Teagan (center) with VIPA's Director of Production, Sterling Phillips, and Ms. Trascik in the theatre's shop
Here is what Amanda had to say about her experience with last year's apprentice program: "I loved the experience of working hands-on with the people of Venice and working in the theater. I did House Management, which was an exhilarating experience having the power to be in control, help the guests inside and make sure that they have a great time at the theater."
With this year's program, Amanda has her sights set on one thing in particular. "This year I'm hoping to end with a 'bang.' I really want to learn more about customer service so that I can help to put a smile on the face of guests, both returning and new."
The apprentice program runs throughout the school year, with students graduating from the program in May. While it is ultimately just for VHS upperclassmen, the Institute is looking to expand its educational programming for upcoming years. If you are a VHS student and you are looking for more opportunities to become involved in the performing arts, VIPA is still looking for interns in marketing, customer service, social media, fundraising, event planning, and more! Please visit or contact the box office at (941) 218-3779.
https://veniceperformingartscenter.com/wp-content/uploads/2018/10/image1-2.jpeg
2048
1536
Ben Gallaher
https://veniceperformingartscenter.com/wp-content/uploads/2018/05/VIPA-logo-header.png
Ben Gallaher
2018-10-24 11:35:44
2018-10-24 11:35:44
Announcing Our 2019 Apprentice Class!